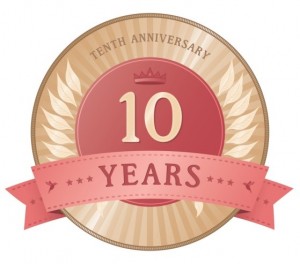 Schroon Lake based on-site shredding provider, is thrilled to celebrate its 10th anniversary. Providing secure, document destruction services to organizations and residents in New York and Vermont, Adirondack Mobile Shredding is happy to assist communities in identity theft prevention, and compliant document management solutions.
For a decade now, businesses of all sizes and industry backgrounds have been turning to this team of specialists for secure disposal solutions. What started as a small and humble paper shredding business has since grown into a multi-service provider, offering clients e-waste solutions, x-ray film destruction, and hard-drive destruction, all at competitive prices. The team also places a major emphasis on delivering industry leading customer service each and every time; a valuable asset that has helped them establish a reputable position in the industry.
Of course Adirondack Mobile Shredding knows that the ongoing success they've experienced wouldn't be exist without the loyalty and commitment shown by their customers. "We are so proud and thankful to be celebrating our 10 year anniversary, and want to make sure we thank our community for supporting us over the years," states Adirondack Mobile Shredding. "We are truly grateful for the incredible business we've received thus far, and are looking forward to 10 more years serving you!"
The shredding specialists at Adirondack Mobile Shredding pride themselves on saving their customers time and money, while maintaining their security. They believe that customized, mobile shredding is the best and most reliable method of shredding for their customers, and makes it extremely easy to arrange an appointment. Partnering with Adirondack Mobile Shredding has provided past and current clientele with shredding options that fit specific schedules and budgets, both critical components in deciding which shredding provider to hire.
As part of their values and commitment to information security, Adirondack Mobile Shredding wishes to remind the public that secure destruction of confidential information is not only a smart business practice, it is a legal one. Failing to properly shred confidential documents and hard-drives leaves business owners, employees, and customers at significant risk to information theft and other legal liabilities. If you are in the New York or Vermont region, please keep Adirondack Mobile Shredding in mind for all hard-drive and document destruction needs.
About Adirondack Mobile Shredding
Adirondack Mobile Shredding offers a variety of document destruction services customized to suit your needs. For service that is professional, efficient, and compliant, this is a shredding company invested in protecting you and your business.
For more information visit https://adirondackshredding.com or call 1-518-532-7614